Description
The Klover Smart 120 is that great, the Directors Gregg & Corrabeth, have one running their own home, providing central heating, keeping the home toasty warm, feeding the family with home cooked meals and copious hot water. We invite customers who are within a 2 hour radius of Ludlow and want to learn more about the Klover range  to view ours working (by appointment only). We keep installations local so that we are at hand to help, complete an annual service and not pressure you into a sale.
The Klover Smart 120 has total automation and a large output to water of 17.5 kW. Taking care of all your heating and hot water needs, a large  oven and hotplate making this Italian model a stylish addition to your kitchen. We have the Klover Smart 120 in our home, running our central heating, hot water and cooking in the kitchen, appointments by arrangement. RHI ELIGIBLE.
The Smart 120 is built with great attention to detail and craftmanship. Waking up in the morning your house is warm as it can be programmed to light itself, making sure that there is plenty of hot water. Cooking rashers of bacon for breakfast in the warm kitchen van now be a pleasure. With a programmable timer the Klover Smart 120 can be set exactly as an oil or gas boiler so that it turns on and goes off to fit in with your lifestyle and family demands.
To the left hand side of the Klover smart 120 is a hopper that holds a maximum 32 kilos of wood pellets. These are automatically fed into the fire chamber when fuel is required. You would need to top up the hopper once every day or two. Klover's advanced combustion system ensures that the fuel is being burnt at over 90% efficiency. Burning wood pellets as a fuel on a Klover smart 120 is nearly carbon neutral giving you considerable savings compared to oil or gas.
Further details about the Smart pellet burners
The Klover Smart 120 Traditional is also available in cream, red and black. The specifications is the same as the Smart 120 but has a more traditional look ideal for a farmhouse kitchen. The Traditional Smart 120 has an enamel top, handrail and optional hob covers. The output is 17.5kW to water and 5.2kW to room. Fitting the hob covers will reduce the heat to the room and increase the heat to water.
A Klover 120 Smart customer video (Emma in the West country)
SPECIFICATION
Dimensions: (W x H x D) 1200 x 875 x 639mm
WEIGHT 290 kg
FLUE DIAMETER 100 MM
MAX HEAT OUTPUT 25 KW
WARRANTY 2 years
BACK OF STOVE TO CENTRE OF TOP FLUE 70 MM
DIRECT AIR SUPPLY Yes
SUITABLE FOR PRESSURISED SYSTEMS
CAN HAVE 12MM HEARTH
EFFICIENCY 90 %
NOMINAL OUTPUT TO WATER 17.5 kW
NOMINAL OUTPUT TO ROOM 5.2 kW
HOPPER CAPACITY: 62 KG

RHI eligible

MCS accredited

PLEASE CALL TO DISCUSS FURTHER & A FULL PRICE LIST
* The Klover range can only be installed and purchased via Klover dealers.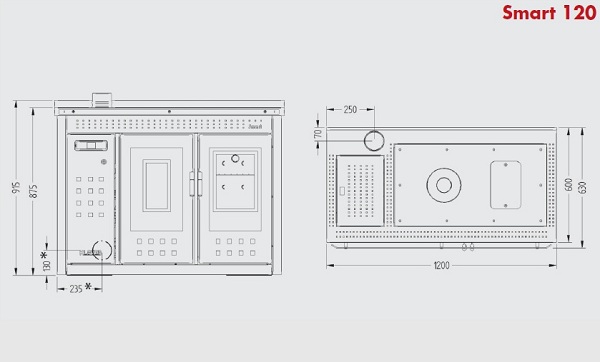 Performance
| | |
| --- | --- |
| TOTAL OUTPUT | 25 KW |
| ROOM OUTPUT | 5.2 KW |
| WATER OUTPUT | 17.5 KW |
| DIMENSIONS (W x H x D) | 1200 x 875 x 639mm |
Testimonials
"Hi Corrabeth & Gregg,
Just letting you know that we received confirmation of our RHI grant today. We are very pleased with the Ofgem recommendation & just wanted to share this news with you."
Mr & Mrs B, Herefordshire