Description
The Klover Smart 80 is a wood pellet boiler which has a hotplate allowing you to boil a kettle or heat up a casserole and also runs the heating and hot water for your house. The Smart 80 has a staggering efficiency of over 90% and is finished in brushed stainless steel. The Klover Smart 80 has the same boiler output as the Klover 120 Smart without the oven.
WEIGHT

220 kg

FLUE DIAMETER

100 MM

MAX HEAT OUTPUT

23 kW

WARRANTY

2 years

BACK OF STOVE TO CENTRE OF TOP FLUE

70 MM

FLUE OUTLET

Top or rear

HEIGHT TO CENTRE REAR FLUE130 mm

DIRECT AIR SUPPLY

Yes

SUITABLE FOR PRESSURISED SYSTEMS

 

CAN HAVE 12MM HEARTH

 

EFFICIENCY

90 % MAXIMUM 

OUTPUT TO WATER

17.5 kW
NOMINAL OUTPUT TO ROOM 3.5 kW

HOPPER CAPACITY 32 KG

BOILER VOLUME 24 L

REMOTE CONTROL INCLUDED

RHI ELIGIBLE

MCS ACCREDITED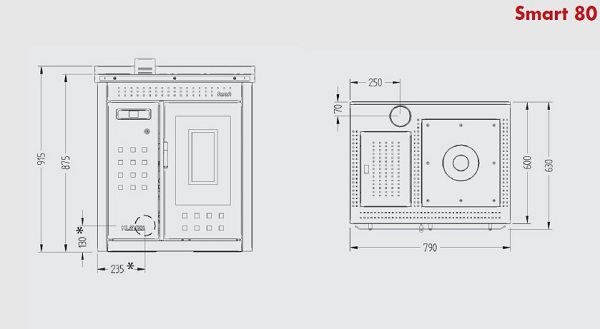 BREAKING NEWS KLOVER SMART 120 & 80
After so many months of discussions and meetings it was great to finally receive the following announcement from the Department of Energy and Climate Change (DECC):
Cooker stoves"Cooker stoves" are biomass stoves with a back boiler that are predominantly designed for space and hot water heating but can also be used for cooking. In these products the heat generated for cooking is incidental to, and cannot be controlled separately from, heat generated for space heating or hot water heating.
Once the regulations come into force, "cooker stoves" will become eligible for the domestic RHI, as long as the product and installation meets all other scheme requirements. This change does not affect range cookers more widely; products designed for cooking will still be ineligible for the domestic RHI scheme, except where they meet the criteria of a "cooker stove".
If you have a "cooker stove" that was installed before the amending regulations come into force, including installations before the 9th April 2014, you will have until 31st July 2015 or 12 months after the date your heating system was fully installed and tested (whichever is later) to apply for the RHI.
We have to say that DECC have been completely pragmatic and helpful throughout the process and the frustration has simply been that the wheels of government move very slowly.
There is talk that there may be a 10% reduction in the level of grant offered from early next year, assuming that the number of applications reach the trigger point. While this is a small reduction, it is still worth getting your pellet stove in as soon as you can.
For further information, see https://www.gov.uk/government/news/more-households-can-benefit-from-renewable-heating
SPECIFICATIONS
WEIGHT 220 kg
FLUE DIAMETER 100 MM
MAX HEAT OUTPUT 23 kW
WARRANTY 2 years
BACK OF STOVE TO CENTRE OF TOP FLUE 70 MM
FLUE OUTLET Top or rear
HEIGHT TO CENTRE REAR FLUE130 mm
DIRECT AIR SUPPLY Yes
SUITABLE FOR PRESSURISED SYSTEMS
CAN HAVE 12MM HEARTH
EFFICIENCY 90 % MAXIMUM
OUTPUT TO WATER 17.5 kW
NOMINAL OUTPUT TO ROOM 3.5 kW
HOPPER CAPACITY 32 KG
BOILER VOLUME 24 L
REMOTE CONTROL INCLUDED
RHI ELIGIBLE
MCS ACCREDITED
Performance
| | |
| --- | --- |
| OUTPUT | 23 KW |
| ROOM OUTPUT | 3.5 KW |
| WATER OUTPUT | 17.5 KW |
| DIMENSIONS (W x H x D) |  790 x 875 x 630mm |
| WEIGHT | 220 kg |
| RHI ELIGIBLE | |
Testimonials
We have recently had a Klover Smart 80 wood pellet boiler installed by Ludlow Stoves and could not be more delighted.
By way of background, when we first renovated our cottage 35 years ago we had a Rayburn multi-fuel range installed which supplied heating and hot water. Some years later we decided to extend our home and opted to supplement the heating with Economy 7 storage heaters as the Rayburn could not supply enough heat, but we were loath to part with it.
Recently, we were looking at options for changing our heating system and were reluctant to completely give up on the idea of a range in our kitchen, so we were delighted when we came across the Klover and Ludlow Stoves, which is run by Gregg and Corrabeth, who have the wonderful facility of being able to demonstrate a Klover working to potential customers in their lovely old home.
Gregg of Ludlow Stoves has great enthusiasm combined with considerable knowledge of his products, which gave us complete confidence in the advice he gave us. Following an inspection of our home, he gave us a detailed report and recommendations on our new heating system, which we were happy to accept, and a wonderful team came to carry out the installation. For us, we thought this was going to be a major operation with new pipe work, water cylinder, pressure vessels and radiators, but the work was carried out in a calm, professional manner with virtually no disruption to ourselves other than moving some furniture around.
The Klover 80 has been running since the end of March and we have had permanent smiles on our faces. Admittedly this has not been in the depths of winter and the system is only running at a level of 3 out of 5 as this is providing more than enough heat. We have never before had every room so evenly heated to our chosen temperature of 20`C with masses of hot water.
We love the Klover because we feel it pays homage to the old Rayburn with a smart finish and a hot plate (we considered the Klover 120, but its size would have meant parting with some kitchen furniture, which we were reluctant to do). It also appeals to us to be green in our use of energy and the final clincher for us was that Klover have recently introduced a moving kit meaning that the boiler can be put in a narrower gap than previously required with it now having the ability to be drawn out for servicing.
Early day for us, but we are absolutely delighted to have found Ludlow Stoves and the Klover 80 and cannot speak highly enough of both.
Mr & Mrs P Shrewsbury