Description
The Solo Stove Bonfire, is the most amazing garden fire pit! Ultra-efficient airflow means no more unburnt logs and your clothes won't smell like smoke. It's the worlds most unique fire pit, pushes the limits of both combustion airflow efficiency and minimalist outdoor design.
The Bonfire is unlike any other fire pit you've ever seen! Solo have used the same patented technology that has been perfected into a portable fire pit to take along on trips or to enjoy at home. The best part? Nearly no smoke and minimal ash left over! Making the Bonfire not only easy to clean up, but won't leave you smelling like campfire.
The Bonfire gets it's power from logs, larger sticks or woody debris, to fuel the fire while the air intake holes on the bottom pull air in towards the fuel source. While air is being pulled in, the double-wall construction allows air to be heated up and fed through the top vents providing an extra boost of pre-heated oxygen, creating a secondary combustion and a beautiful flame that your family and friends will enjoy watching!
Weight: 20lbs / 9kg
Material: 304 Stainless Steel
Fuel: Firewood / Logs
Product Details
Vent holes improve combustion, creating fire with less smoke
Fire ring keeps the flames central and even
Ash pan shields the ground from heat and catches loose ash
Lightweight, portable, and easy to empty after use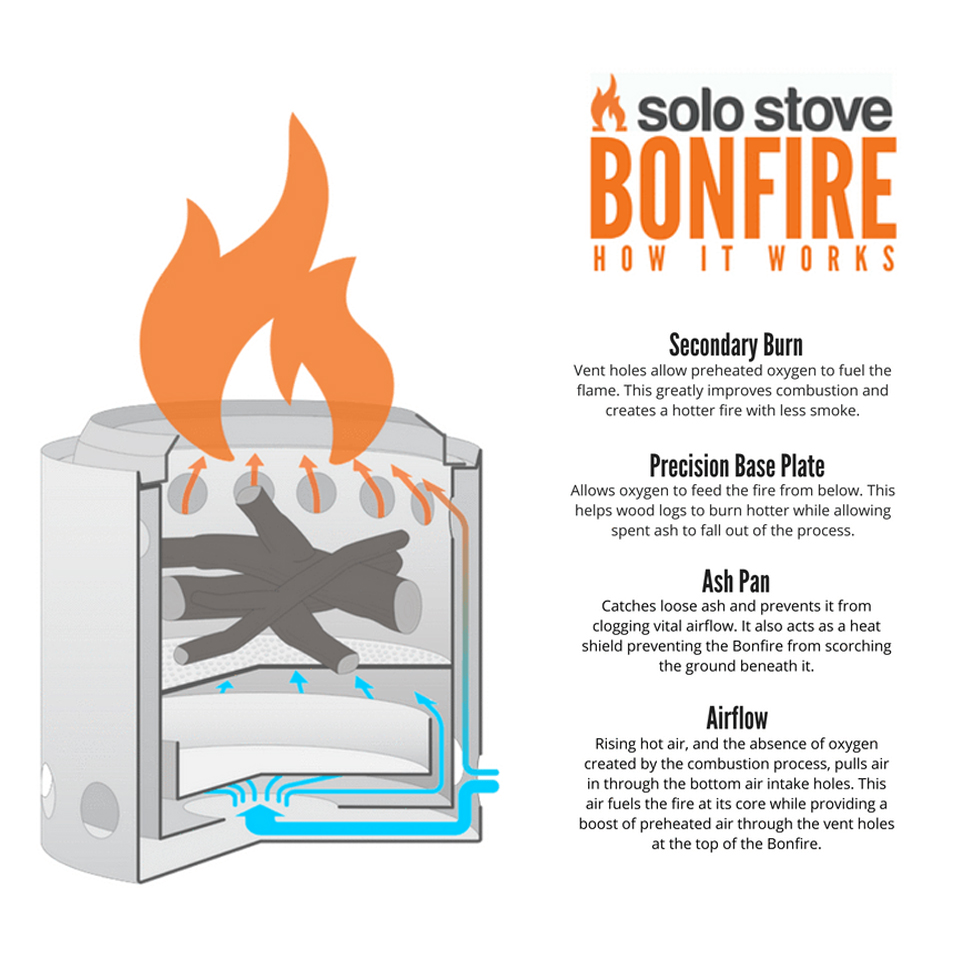 Shield
Unmistakably a Solo Stove product, the clean, minimal, two-piece spark Shield provides an extra degree of safety and peace of mind, helping prevent embers from escaping your fire pit.
The upper section of the Shield can be removed by itself, allowing you to add more wood to your fire without having to remove the entire unit, and the Shield self-centers to dock seamlessly with your Bonfire.
The grooved rim provides visual and physical guidelines making it intuitive and easy to use, and roasting stick supports help it pair perfectly with Solo Stove Sticks when you and yours are crafting the perfect s'mores.
– Stops Sparks
– Durable
Assembled Size: 19.5 x 3.75 inch
Weight – 2.3kg
Shelter
A great companion for your Bonfire fire pit, the waterproof, durable Bonfire Shelter makes it easy to cover and protect your Solo Stove from rain and snow when not in use.