Description
The Esse 100SE Vista Wood Burning Stove offers the best of both worlds, combining traditional styling with modern technology to create a more eco friendly stove ideal for small rooms. The Esse 100SE Vista offers a heat output of up to 5.0kW which means the Esse 100SE doesn't usually require an air brick in the room.
The Esse 100SE Vista offers all the performance and benefits of the Esse 100 but with the added advantage of being approved to burn wood in Smoke Control areas. This is an ideal wood burner for urban households.
The Esse 100SE Vista can now be supplied with the brand new AutoBlaze technology. AutoBlaze is an electronic ignition system for wood burning stoves. It's simple to use – load your dry logs in front of the air jet, close the door, press the remote and the 5-8 minute lighting cycle begins.
There is not usually the need for kindling. As well as being clean and safe, it is also a great solution for 'cold flue' or poor draught installations.
Features
Heat output up to 5.0kW
Approved for wood burning in smoke control areas
Pre-heated secondary airwash
Afterburn™ system for outstanding flame and heat control
Steel stove body construction with cast iron stove door
Top or rear flue outlet
Optional AutoBlaze Technology
Rear flue box kit required for rear flue installation
| | |
| --- | --- |
| FLUE SIZE | 125mm (5″) |
| FLUE OPTIONS | Top or Rear (Interchangeable) |
| WIDTH | 610mm (24.02″) |
| HEIGHT | 630mm (24.8″) |
| DEPTH | 310mm (12.2″) |
| HEIGHT TO CENTRE OF REAR FLUE | 500mm (19.69″) |
| DEPTH FROM BACK TO CENTRE OF TOP FLUE | 130mm |
| EFFICIENCY (%) | 82.10% |
| WEIGHT (KG) | 84Kg |
| BUILT FROM | Steel Body, Cast Iron Door |
| ENERGY RATING | A |
| STYLE | Contemporary, Timeless, Traditional |
| EXTERNAL COMBUSTION | No |
| 12MM HEARTH INSTALLATION | Yes |
| HEAT OUTPUT | 5kW |
| PARTS WARRANTY | None |
| WARRANTY | 5 Year |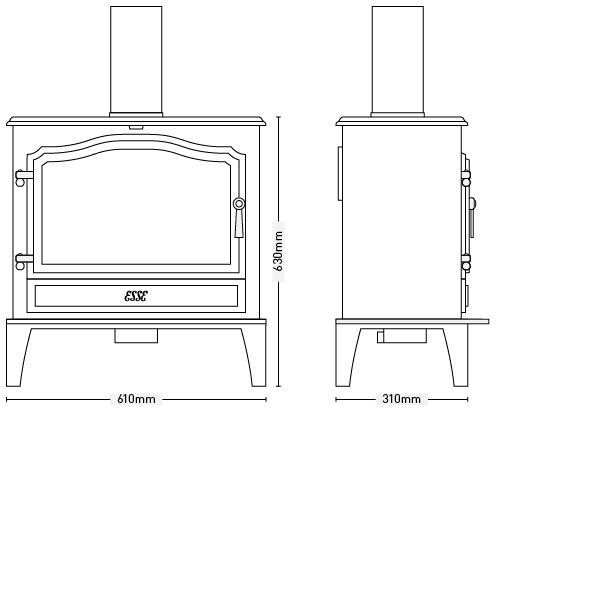 ESSE 100 Vista DD
5kW heat output; efficiency 82%
If you like the beautifully robust good looks of our best-selling 100 model, but would prefer traditional double doors, you've just found precisely the stove you are looking for . . .
Like its single-door sibling, this is a classic ESSE wood-burner – providing a heart-warming rustic focal-point for your living space, combined with 21st century energy-efficiency and all-round performance.
To enjoy the flames to the full, there's no need to burn with the doors open – thanks to ESSE's advanced Afterburn™ airwash technology, which gives you exceptional burn rate control, while keeping the glass door clear at all times.
For even greater use of enjoyment, the 100 DD is compatible with our advanced automatic electric ignition technology; so no need for matches, lighter or kindling.
It can be installed with a top or rear flue, and is also available with a 300mm tall log store.
Weight 84kg
Clearances to combustibles: 600mm sides, 450mm top, 305mm front & 600mm rear
Rear flue box kit required for rear flue installation
Optional AutoBlaze Technology
Defra approved
Pre-heated secondary airwash
82% Efficiency
Steel and cast iron construction
Afterburn system for flame and heat control